Q&A with LYDIA♥

One of the blogs on my '
top blog list of 2010
' is Lydia's. I've been reading
her blog
since early this summer and one of the things that has kept me coming back is how she blogs like (I assume) she would talk. I know other people out there feel the same about her, and I'm sure you will, too! I immediately feel comfortable with her, also because of her honesty and how she shares the REAL her. You can tell that she isn't trying to be anyone but herself, and I LOVE THAT.
We've gotten together to host a giveaway + Q&A together! I got the chance to ask Lydia a few questions about her, Josh & love here, and she is giving away one of my headbands & journals on her blog. Check out the questions below and learn more about Lydia & Josh's fun, loving relationship! I loved reading these and getting to know this sweet couple a little better. :) And don't forget to
enter the giveaway on Lydia's blog
!
Q&A with LYDIA♥
When did you first meet Josh and what was it like?
I first met Josh when I was 17 years old on Halloween. He was in a band, and I went to shows a lot, so we'd seen each other before this, and actually even texted each other, but never officially met. We had a mutual friend who physically introduced on this Halloween night, though. It was very, VERY awkward, and we barely even spoke to each other. After this, we started occasionally hanging out, but it was always the same...we could barely speak to each other, we were so shy! So we mostly communicated through texting, but I still cherished our physical encounters, no matter how awkward, because I loved just being around him. I had such a crush on him.

How did you guys starts dating?
There was a long period of time where Josh and I didn't talk. Not for any bad reasons! It was just that he had moved away to New Jersey to join another band, and he was touring a lot and stuff. And I was busy doing my own thing, too. But around March of 2009 I broke up with my then boyfriend, and Josh noticed and started texting me. We started talking quite a bit, and I was really happy to have him back in my life. Even if we were still pretty awkward! :) It turned out he was coming through our hometown on tour with his band in April, and then staying for a couple of days. So I went to his show, and we made plans to hang out a couple of times. The first time we hung out was really awkward, as usual. And then a couple of days later we hung out again, and it seemed a little less awkward for whatever reason. And before the night was over, Josh kissed me! And it was basically the best moment ever. He was supposed to go back on tour for another couple of weeks, and then he was going to quit the band, but he decided to quit early...and we got together. :)

When did you know he was the one?
I feel like I knew Josh was "the one" right away. As crazy as that sounds! But I'm serious. And Josh says the same thing. He said he knew that when he asked me to be his girlfriend and decided to stay in Poplar Bluff, he was making the ultimate commitment. And he says that he said to himself, "I'm going to marry this girl." We actually started talking about marriage seriously just a couple of months into our relationship. I know some people think that's crazy, but we just always knew! I really, truly feel like we were always meant to be. We always had feelings for one another...we just had to wait for our moment.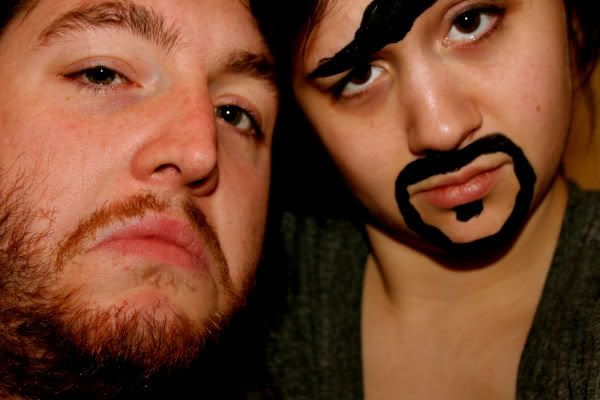 What is your favorite thing about Josh?
My favorite thing about Josh is...everything? Haha. He just has a really great heart. He's very selfless, giving, and kind. And such a hardworker. I just genuinely adore everything about him. I have a lot of respect and admiration for him. He's truly the best person I know. Obviously I'm a little biased, but I really do feel that way.

How do you guys love each other / show your love for each other?
We show each other love by listening to one another, giving, paying attention to each other, having fun, being silly. Trying our hardest to be understanding. Appreciating each other. I think my favorite one is just having fun together. :) It's the best! And it really strengthens the best friend bond. Which makes everything so much better!

What advice do you have for others about love?
My advice for love is to realize that it's not always going to be sunshine and roses, first of all. I don't say that to be Debbie Downer, but to just be real with you! Because that's the truth. There are going to be tough times, but you have to push on, and know it will be better, and just work hard together. Love is work. But it's also lots of fun! So, remember to be silly together. Laugh and have tons of fun together! Keyword: Together. In everything, it has to be an equal partnership. I think that's the key to a great relationship. Oh, but that doesn't mean you should always BE together. Because, let's face it, that would get annoying. So another important little thing...personal space! Oh, and knowing when to pick your battles. And not taking things way too seriously. I think that's pretty much a wonderful recipe for a great relationship. At least, it worked for me. :)