adorables: you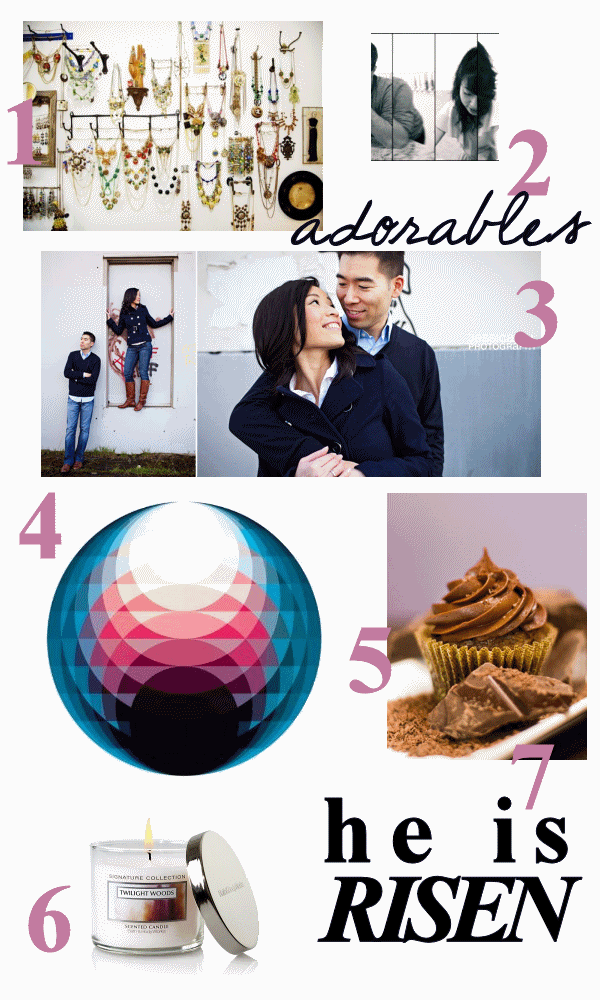 1. i love this picture. i want to make this. i love it!
so cool
.
2. i am in love with my friend
sandra's tumblr
! it's short and sweet, but filled with SO MUCH goodness & fun. she has great style. super cute!
3. my cousin & his fiance got their
engagement pictures
taken. they are BEAUTIFUL!
4. i love gold panda.
i love gold panda
.
5. luke & i visited
cupcake jones
in portland this weekend! none of our pictures turned out... but the cupcakes were SO delicious. (luke's favorite = the pearl)
6. this candle =
twilight woods
. this candle always reminds me of twilight the movie, but it smells so good. like, i want to eat this candle. you will too. also, two candles for $20. so good.
7. happy easter!! i love family. i love family.
I had a great weekend-- I am so thankful! This weekend is going to be crazyy with midterms! Ahh, & it's supposed to be rainy. But, let's find things to make this week better! LITTLE DETAILS, right, guys?! (or girls, really) Anyways, hope you had a great Easter & fun with family and/or friends!