top songs of 2011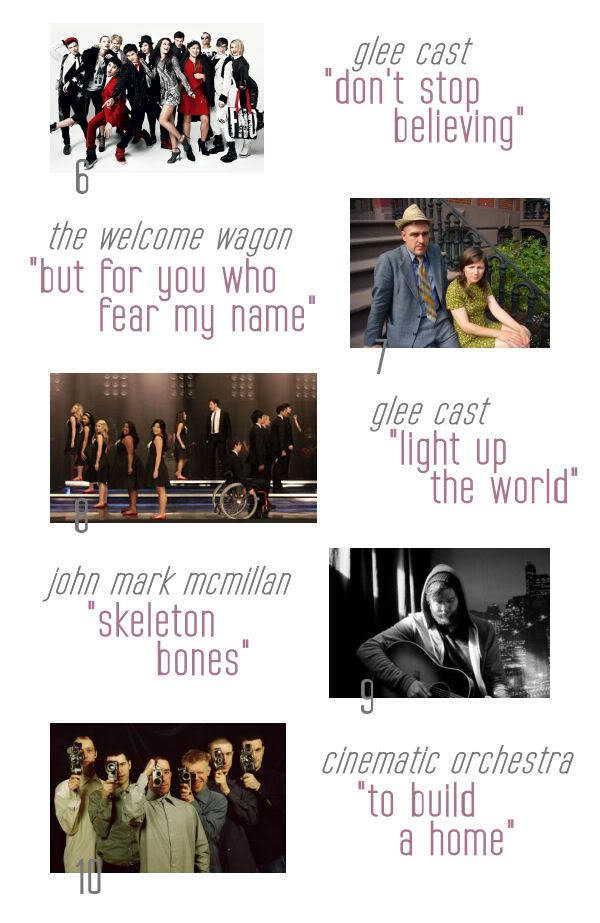 Top songs of 2011! Fun stuff. I know that this list is all over the place. Sometimes I'm proud of that, and sometimes I'm embarrassed. But what can I say? I am a Pop Princess at heart! Yes, with capital Ps. Here is my list in the short (with youtube links!):
1. Trent Reznor & Atticus Ross -
In Motion
2. TV on the Radio -
Second Song
3. St. Vincent -
Cruel
4. TV on the Radio -
All Falls Down
5. Coldplay -
Princess in China
6. Glee Cast -
Don't Stop Believing
7. The Welcome Wagon -
But For You Who Fear My Name
8. Glee Cast -
Light Up the World
9. John Mark McMillan -
Skeleton Bones
10. The Cinematic Orchestra -
To Build a Home
Other Favorites:
Katy Perry -
The One That Got Away
Jessie J -
Domino
Grouplove -
Tongue Tied
The Joy Formidable -
Whirring
Flo Rida -
Club Can't Handle Me
Justin Bieber -
Somebody to Love
Now I'm feeling a little insecure, so if you enjoy some of these too, please let me know. I'll need support. Until next year, I'll be pressuring
Luke
to write me some pop singles like these so I can be the next pop sensation! Can we get #popprincess trending?
And
this is my list
from last year.
X.O.X.O.